The Implications of the NIS 2 Directive

What is the NIS 2 Directive
The EU directive on the security of Networks and Information Systems (known as the NIS 2 Directive). Network and information systems and the essential services they support play a vital role in society, from ensuring the supply of electricity and water, to the provision of healthcare and passenger and freight transport. Their reliability and security are essential to everyday activities.
There is therefore a need to improve the security of network and information systems across the UK, with a particular focus on essential services which if disrupted, could potentially cause significant damage to the economy, society and individuals' welfare.
What's in it for You and Your Business?
The Insurance industry is taking a hard look at the NIS Directive in terms of where they see the risk balance between themselves and essential services organisations. Remediation activity to comply with NIS requirements will be considered favourably, whilst non-compliance may leave businesses without cover. Similarly, directors should consider the personal liability that falls upon them for any critical infrastructure disruption that occurs and the reputational damage that could ensue.Impact of NIS
The breach reporting and penalty mechanisms are the same as for GDPR, so that CNI organisations that experience Business Interruption will suffer fines of up to £17m.
Event Properties
| | |
| --- | --- |
| Event Date | 21/03/23 9:30 am |
| Individual Price | £990.00 |
| Location | Online |
Group Rate
| #Registrants | Rate/Person (£) |
| --- | --- |
| 2 | 900.00 |
| 3 | 850.00 |
Agendas
Session 1

A Facilitated Workshop

The NIS directive will have a major impact on the working practices of those who operate essential services. This facilitated workshop is intended as a starting point for senior managers and executives to understand the NIS directive and the implications it has on their organization. Through lectures and range of practical exercises, you will come to understand how NIS impacts upon your organization and create a road map to develop compliance with NIS. Through the day you will have expert guidance and help from cyber security experts who will be on hand to help and facilitiate.

Session 2

Examining your Company

Have an understanding of the NIS Directive and it the implications it has on their organization. Know how to establish their organisations level of current NIS compliance. Use a gap analysis tool to determine a prioritised plan to become NIS compliant Be able to assess how their governance frameworks can be tailored to assist with NIS compliance. Have an understanding of how information assurance mechanisms can demonstrate NIS compliance.
Speakers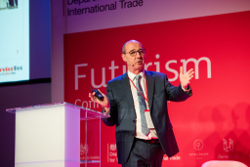 Dr John McCarthy Ph.D. B.Sc. (hons) MBCS
CEO and Founder of Oxford Systems
Dr John McCarthy is a world renowned authority on CyberSecurity strategy, development and implementation. He holds a PhD in CyberSecurity and eBusiness Development.