Black Sea Cyber Security Week
In 2018 The Black Sea Maritime Cyber Security conference, the first in Romania was a great success. Following on from this highly regarded event it was decided to hold an annual Black Sea cyber Security week.

This 3-day event will focus on key areas of cyber security and in 2019 will look at the NIS Directive and the implications it has for companies in Romania. It will also look at the human element of cyber security via a 1 day training class on social engineering. Importantly it will link this training to the NIS Directive. The week will open with a 3 hours masterclass on how to present cyber security issues to senior executives and board members. All sessions will be run by Dr John McCarthy.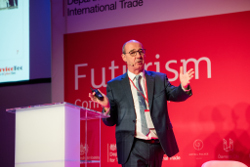 Dr John McCarthy Ph.D. B.Sc. (hons) MBCS
CEO and Founder of Oxford Systems
Dr John McCarthy is a world renowned authority on CyberSecurity strategy, development and implementation. He holds a PhD in CyberSecurity and eBusiness Development and is an internationally recognized author of a number of academic papers discussing all aspects of CyberSecurity in the modern world.
John is frequently invited to sit on expert panels and appear as an expert speaker at well-known CyberSecurity events. Past appearances have included talks on ICT Security in the Modern Airport, Security in the Digital Age and SCADA threats in the Modern Airport at various prominent international conferences. John is also a leading expert on social engineering awareness training and best practice.
BOOK ALL 3 EVENTS TOGETHER AND GET A MASSIVE 20% DISCOUNT